EOS Mega Update 16 - Chintai v2.0 & REX, Gangster Arena, Scatter Exchange IN Wallet, Audit, EOSForce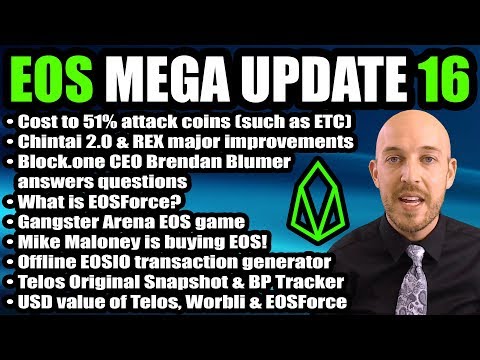 Topics & Time-stamps:
⚫ (0:28-) Cost to 51% attack various cryptos. Notice EOS (nor any PoS platform) is not listed. https://www.crypto51.app/
ETC was 51% attacked recently. EOS (and all PoS & DPOS coins) cannot be 51% attacked in this manner as it does not use proof of work.
⚫ (2:14-) Chintai v2.0 major improvements.
https://medium.com/@ChintaiEOS/chintai-2-0-enhancements-token-e6dc085dbb1c
-Passive Income
-Chintai Blockchain interoperability between all EOSIO chains (EOS, Telos, Worbli, Everipedia)
⚫ (6:54-) Gangster Arena on EOS.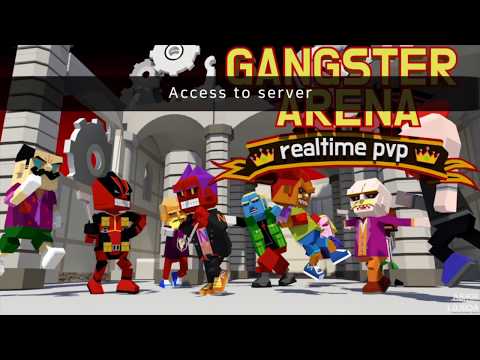 (see their website and more info on company) https://itam.games/
⚫ (7:59-) Scatter to launch exchange inside of their wallet.
⚫ (9:42-) Brendan Blumer (block.one CEO) responds about rewarding voters & audit.

https://t.co/PGIcq1UByi
⚫ (16:05-) Mike Maloney has been buying EOS.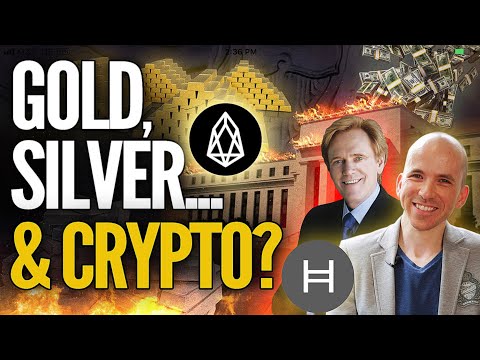 Mike was subscriber #22 to Colin Talks Crypto in June of 2018!
⚫ (17:55-) Share my Telos BP tracker. shout out Kevin Quaintence from TelosGlobal Block Producer for supplying the data source.
http://BlockProducers.info/telos
⚫ (18:18-) Updated my offline EOSIO active key changer to work with Telos. You can then link your ledger nano s to your Telos account so you can transact with TLOS using Scatter wallet or altshiftdev.com 's MyEOSWallet.
https://colintalkscrypto.com/eosio_offline_active_key_changer
⚫ (19:46-) Current USD value of Telos tokens:
https://www.chainrift.com/trading?coinpair=TLOS/EOS
⚫ (20:18-) Telos Original Snapshot at block 6,000,000.
⚫ (21:40-) Current USD value of Worbli & EOSForce tokens:
https://www.coingecko.com/en/coins/worbli#panel
https://www.coingecko.com/en/coins/eosforce
⚫ (22:01-) What is EOSForce? A look at the Asia-based EOSIO blockchain.- - - - - - - - - - - - - - - - - - - - - - - -
Disclaimer: The views expressed in this video are strictly my own and are not to be construed as trading advice. Do not buy, sell or otherwise trade cryptocurrency based on the content of this video. I am merely sharing what I have done and what I would do in various situations as an educational tool only.
---
⚡Colin Talks Crypto⚡ addresses/wallets:
💜 EOS donation address/account name: colintcrypto
💜 Ethereum (ETH) address: 0x5b90414Aeb115f910698304E63C2C3092739c9c0
💜 Bitcoin Cash (BCH) address: qpzc3apy9s8x2qtlqxxgnalfxtzgnkg5nq352w9k2t
💜 Bitcoin (BTC) address: 1Da6ivdriJpzqnLkNEa1XnKk5nGCiyRZrF
---
You can reach me at:
💗 Website: http://www.ColinTalksCrypto.com
💗 YouTube:

💗 Twitter: https://twitter.com/ColinTCrypto (@ColinTCrypto)
💗 Steemit: https://steemit.com/@colintalkscrypto?? DTube: https://d.tube/#!/c/colintalkscrypto
💗 D.Tube video channel: https://d.tube/#!/c/colintalkscrypto
💗 Bit.Tube video channel: https://bit.tube/ColinTalksCrypto
---
T-shirts and merchandise available. Because... why not?
https://teespring.com/colintalkscrypto
---