U.S. Crypto Tax Haven: Moving to Puerto Rico #3 – Bull Run is Coming! I Visit Puerto Rico in Person!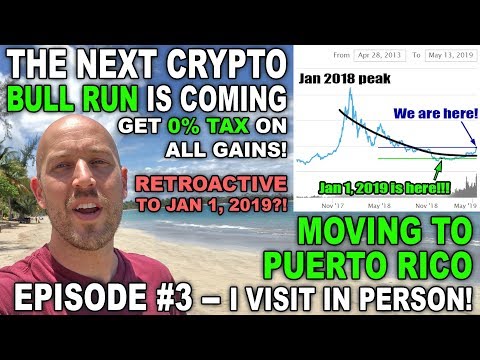 Third video in the series of moving to Puerto Rico as a cryptocurrency holder to take advantage of the 0% capital gains benefits with Act 22. I cover: different locations to live in, food, safety, tips, beaches, living conditions, language, the people, and a comparison to living in the States.
Rental sites for Puerto Rico:
http://point2homes.com
http://clasificadosonline.com
PEOPLE
Friendly people. Generally people here feel more personable and friendly. For example, On Sunday morning at a breakfast place (Pan A Peso) [show photos of food], a friendly man helped us translate when we were ordering food. I asked what he did for a living and he said a police officer. He was extremely kind and gave us his phone number in case we needed anything. I don't think this would have happened in the states.
LANGUAGE (SPANISH & ENGLISH)
Language is hybrid English/Spanish. English is spoken almost everywhere. Sometimes a person will only speak Spanish, but it's rare in the areas we visited. As one example: In the movie theatre, the advertisements were in Spanish. The movie was in English with Spanish subtitles. Street names are often in Spanish. You can survive even if you only speak English as it's spoken almost everywhere, if only somewhat.
I found that I would learn a Spanish word or two every day, just by the fact of seeing it around me in day to day life. You'll pick up a basic understanding of certain common words without much effort, because they're used often.
CULTURE
Very often, if you are white, you may find you are the minority when you go to places. And it's fine. Just a different proportion of races here.
FOOD
The food is quite good. Often better than many restaurants in the States. Nearly every place we ate at was very good.
COST
Rent can be more expensive here. The cost of real estate has gone up significantly in the recent years due to Act 20 and 22. There is a lot of demand and not enough properties.
Dilapidated sums up many of the homes and buildings in Puerto Rico. Not kept up nicely. Somewhat large portion of society here is poverty level.
Posed question: If it wasn't for Act 22, would I move here? No I wouldn't. You do lose access to certain conveniences while down here. While there are a lot of shopping options, they aren't all present. For example there are no Whole Foods here.
But the island life can be a fun and different way of living and if you pick the right area to live in, it can be made a worthwhile experience overall. I look forward to learning more of this country, its people and language as I move to Puerto Rico and make my new home there!
---
Disclaimer: The views expressed in this video are strictly my own and are not to be construed as trading advice. Do not buy, sell or otherwise trade cryptocurrency based on the content of this video. I am merely sharing what I have done and what I would do in various situations as an educational tool only.
Earth Spin Animation - ©kNews.space - all rights reserved
---
⚡Colin Talks Crypto⚡ wallets & links:
💜 EOS donation address/account name: colintcrypto
💜 Ethereum (ETH) address: 0x5b90414Aeb115f910698304E63C2C3092739c9c0
💜 Bitcoin Cash (BCH) address: qpzc3apy9s8x2qtlqxxgnalfxtzgnkg5nq352w9k2t
💜 Bitcoin (BTC) address: 1Da6ivdriJpzqnLkNEa1XnKk5nGCiyRZrF
💗 Website: http://www.ColinTalksCrypto.com
💗 YouTube:

💗 Twitter: https://twitter.com/ColinTCrypto (@ColinTCrypto)
💗 Steemit: https://steemit.com/@colintalkscrypto
💗 Uptrennd channel: https://www.uptrennd.com/user/colintalkscrypto
💗 BitChute channel: https://www.bitchute.com/channel/colintalkscrypto/
💗 D.Tube channel: https://d.tube/#!/c/colintalkscrypto
💗 Bit.Tube channel: https://bit.tube/ColinTalksCrypto
💗 T-shirts and swag: https://teespring.com/stores/colin-talks-crypto