EOS Mega Update 22: Giveaway 10 EOS hardware wallets, Deep Dive into REX - Apr 29? What EUA means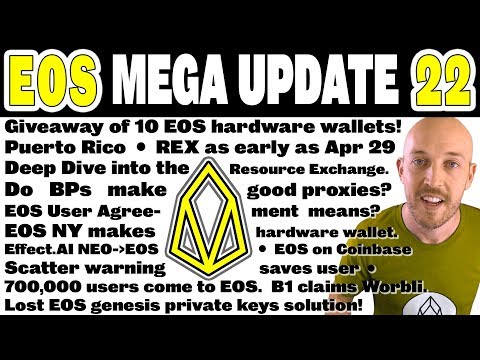 Topics & timestamp list:
• (1:31-) Visiting Puerto Rico soon.
• (2:33-) Giveaway of 10 bluetooth hardware wallets.
• (4:22-) Great user perspective on EOS - https://www.reddit.com/r/eos/comments/bgucqw/eos_is_still_surprising_me/
• (6:56-) REX testing complete - Deployment of REX on EOS has now commenced! 3rd time is the charm.
https://www.reddit.com/r/eos/comments/bgtgis/rex_is_almost_here_the_second_attempt_to_update/
https://eosauthority.com/rex/
https://eosauthority.com/approval/view?scope=eosauthority&name=deployrex2&lnc=en
https://www.reddit.com/r/eos/comments/bdubgs/rex_testing_complete_deployment_of_rex_on_eos_has/
• (7:28-) REX as early as April 29, 2019.
https://medium.com/eos-new-york/the-ultimate-guide-to-rex-participation-on-eos-9cc0e449b320
• (11:42-) Are Block Producers a good choice for being your vote proxy?
• (13:44-) Some small risk involved with REX loaning.
• (14:49-) Examples of interfaces that will be live for REX.
• (18:21-) EOS NY's hardware wallet.
https://medium.com/@eosnewyork/the-metro-a-sneak-peek-get-notified-e5aee2eec6f1 - https://www.eosmetro.io/
• (19:58-) Dan says "we have multi-year roadmap internally".
https://www.reddit.com/r/eos/comments/be6bd5/daniel_larimer_on_telegram_we_have_multi_year/
• (20:22-) EOS New York presents yet another improvement to EOS:
https://bloks.io/vote/referendums/tokenauction
• (21:04-) Effect.AI is doing a token swap from NEO to EOS.
https://www.reddit.com/r/eos/comments/bduffp/effectai_is_getting_ready_for_the_swap_to_eos/
• (21:31-) EOS User Agreement was put in place. What this means:
https://trybe.one/the-eos-user-agreement-eua-has-replaced-the-interim-interim-constitution-whats-coming-next/ref/722/
• (25:08-) How a user almost got scammed but was saved by Scatter wallet's warning
• (26:00-) A platform for freelancers founded in 2014, is getting funding from @block_one_'s venture arm to bring its 700,000 users to the $Eos blockchain.
https://www.coindesk.com/a-freelance-job-market-is-moving-its-700000-user-web-2-0-business-to-eos

https://www.reddit.com/r/eos/comments/bbselc/freelance_job_market_is_moving_its_700000_users/
• (26:36-) Trading just went live on Coinbase Pro for EOS, Augur and Maker. In the first hour, here's the results:
• (27:17-) EOS continues setting new records for blockchain activity. And 1 million user accounts!
http://blocktivity.info
• (28:13-) Dan Larimer Confirms Block.One Claimed Their 100Million Worbli Tokens
https://www.reddit.com/r/eos/comments/bae0ip/dan_larimer_confirms_blockone_claimed_their/
• (28:35-) The ratio of EOS value to ETH value is ever-increasing. Volume bars increasing as well recently. Historically speaking, it's showing that if you have ever traded ETH for EOS, it's been a good move.
https://hitbtc.com/EOS-to-ETH
• (30:14-) Lost EOS private key genesis account testing complete!
⚫ More about the Cold Storage EOS/ETH Hardware wallet giveaway: (10 of them) It supports all EOS and ETH tokens as well as the native currency. DISCLAIMER: I did not create this device, nor have I used it. I am providing it as-is. They were given to me at the EOS World Expo from StartEOS who mailed a box of them for give-away. It is a bluetooth device, so it is not required to plug it into any device. I am not endorsing this as a safe solution, but just as a fun thing to try out for educational purposes only. I cannot vouch for its security. I do not feel it has been as rigorously tested as the Ledger Nano S.
https://www.starteos.io/en/ (there's a video talking about it)
---
Disclaimer: The views expressed in this video are strictly my own and are not to be construed as financial advice. Do not buy, sell or otherwise trade cryptocurrency based on the content of this video. I am merely sharing what I have done and what I would do in various situations as an educational tool only.
Earth Spin Animation - ©kNews.space - all rights reserved
---
⚡Colin Talks Crypto⚡ wallets & links:
💜 EOS donation address/account name: colintcrypto
💜 Ethereum (ETH) address: 0x5b90414Aeb115f910698304E63C2C3092739c9c0
💜 Bitcoin Cash (BCH) address: qpzc3apy9s8x2qtlqxxgnalfxtzgnkg5nq352w9k2t
💗 Website: http://www.ColinTalksCrypto.com
💗 YouTube:

💗 Twitter: https://twitter.com/ColinTCrypto
💗 Steemit: https://steemit.com/@colintalkscrypto
💗 D.Tube video channel: https://d.tube/#!/c/colintalkscrypto
💗 Uptrennd channel: https://www.uptrennd.com/user/colintalkscrypto
💗 Bit.Tube video channel: https://bit.tube/ColinTalksCrypto
💗 T-shirts: https://teespring.com/stores/colin-talks-crypto