Decentralizing EOS Smart Contracts #3 – Conclusion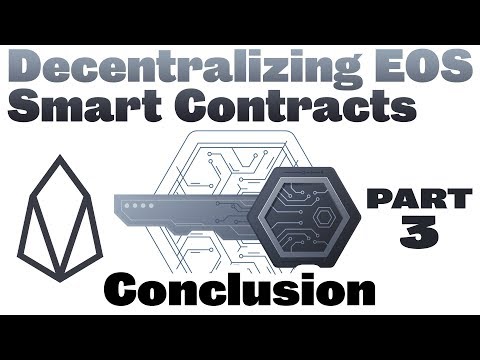 (Podcast-style talk. Mostly audio with a few visuals.)
Conclusion video.
Dan Larimer's tweet:
"The free market will determine whether people want immutable or mutable smart contracts. Many different multisig/governance policies are possible. #eosio supports both, the market will decide what works. We have all seen the chaos created by broken #ethereum immutable contracts."
My response:
The choice of immutable/mutable is great. The important thing is users are clearly aware there is a difference, esp when depositing funds into one. Then it's all good. We need tools that make it plainly obvious the mutable/immutable state of smart contracts across all wallets. Free market will sort out the rest. Problems could arise only if users are unaware of the state of smart contracts they deal with. It's a communication point more than anything else.
---
Disclaimer: The views expressed in this video are strictly my own and are not to be construed as financial advice. Do not buy, sell or otherwise trade cryptocurrency based on the content of this video. I am merely sharing what I have done and what I would do in various situations as an educational tool only.
Earth Spin Animation - ©kNews.space - all rights reserved
---
⚡Colin Talks Crypto⚡ wallets & links:
💜 EOS donation address/account name: colintcrypto
💜 Ethereum (ETH) address: 0x5b90414Aeb115f910698304E63C2C3092739c9c0
💜 Bitcoin Cash (BCH) address: qpzc3apy9s8x2qtlqxxgnalfxtzgnkg5nq352w9k2t
💜 Bitcoin (BTC) address: 1Da6ivdriJpzqnLkNEa1XnKk5nGCiyRZrF
💗 Website: http://www.ColinTalksCrypto.com
💗 YouTube:

💗 Twitter: https://twitter.com/ColinTCrypto (@ColinTCrypto)
💗 Steemit: https://steemit.com/@colintalkscrypto
💗 Uptrennd channel: https://www.uptrennd.com/user/colintalkscrypto
💗 BitChute channel: https://www.bitchute.com/channel/colintalkscrypto/
💗 D.Tube channel: https://d.tube/#!/c/colintalkscrypto
💗 Bit.Tube channel: https://bit.tube/ColinTalksCrypto
💗 T-shirts and swag: https://teespring.com/stores/colin-talks-crypto