EOS Mega Update 21: Stakemining,EOSIO Labs,Stable Coin,PredIQt,EOSfinex,dMail,vAccounts,User Agremnt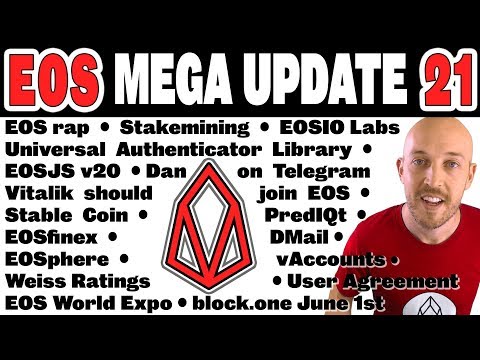 Topic List & Time-stamps:
⚫ (0:08-) EOS Rap lyrics:
/EOS is on the rise, I can't believe my eyes, Free transactions on my account, Adoption to the Sky.
/You know why I'm lovin this? 12 character account names, instant transactions and on-chain governance.
/Faster than all other blockchains you can't stop me. And when you delegate don't forget to vote for my proxy.
/Block.one and Dan Larimer got this hot ish. Droppin bombs in June make sure you watch it!
⚫ (1:30-) Stakemining – What is it?
https://Stakemine.io
⚫ (4:03-) block.one releases "EOSIO Labs" (similar functionality to Transit API written by AltShiftDev, but the more implementation diversity the better)
https://medium.com/eosio/introducing-eosio-labs-a-place-for-open-innovation-55bd939eb53a - and Universal
Authenticator Library:

⚫ (6:46-) block.one releases EOSJS (Javascript) stable version 20:
https://medium.com/@eosio/eosjs-stable-version-20-0-0-toward-seamless-and-secure-javascript-development-for-eosio-d21ad5ec3abe
⚫ (7:49-) Dan Larimer confirms EOS Stable Coin!
https://www.eoswriter.io/the-feed/2019/4/2/dan-larimer-on-telegram-31-march1st-april-confirms-stable-coin
⚫ (9:00-) New decentralized Prediction Market to be built on EOS by the makers of Everipedia. PredIQt is coming in June 2019! (minimum viable product to be released then). It utilizes the same IQ Token that Everipedia uses.
https://medium.com/@prediqtnetwork/introducing-prediqt-the-first-prediction-market-built-using-eosio-technology-d9d2f98ecaa3
⚫ (9:39-) EOSfinex beta is live.
https://medium.com/eosfinexproject/presenting-the-eosfinex-testnet-3f3ba93b2ed
TUTORIAL:
https://medium.com/eosfinexproject/tagged/tutorial
BETA SITE:
https://paper.eosfinex.com/#/
⚫ (10:53-) Block.one is located close to Washington DC to work with and encourage government to adopt blockchain!
Credit goes to Zack of Everything EOS for the "headquarters moving to DC" detective work!
⚫ (11:42-) Dan on Telegram - Vitalik should leave ETH and join blockone - B1 iOS wallet will be open-sourced
https://www.eoswriter.io/the-feed/2019/3/28/dan-larimer-on-telegram-28th-of-march
⚫ (12:24-) ITAM Games store is live!
https://itam.store/
⚫ (12:46-) dMail (not Gmail)
https://medium.com/@dmail/dmail-sneak-peak-a-first-look-at-the-service-987e246e3559
https://www.reddit.com/r/eos/comments/b9bctm/dmail_sneak_peak_a_first_look_at_the_service/
⚫ (13:57-) Ledger app updated to v1.2.1 to fix Chrome update that broke functionality.
⚫ (14:32-) Weiss Ratings, CCID and CoinMarketCap FCAS all rate EOS
#1
⚫ (15:41-) EOS Sphere compiles an impressive list of accomplishments! Every BP should do this. It provides a quick resource for those who want to know more about why they should vote for you. Bravo guys.
https://steemit.com/eos/@eosphere/why-eosphere-q1-2019
⚫ (16:55-) vAccounts -
https://medium.com/@liquidapps/all-aboard-the-eos-train-its-free-dbc00d9b21f
⚫ (17:54-) Weiss ratings rates EOS among the top cryptos. The other metric FCAS (in previous video) does too!
https://cointelegraph.com/news/weiss-crypto-ratings-puts-bitcoin-aside-eos-and-xrp-in-annual-outlook
⚫ (18:10-) EOS User Agreement update (Constitution replacement) - 1 more BP's support needed!! Only 8 days left!
https://eosauthority.com/approval/view?scope=eosnewyorkio&name=eosuseragree&lnc=en
⚫ (19:23-) EOS has its own CoinMarketCap-ish world and anyone who doesn't know about the development taking place is in for a shock:
http://eosgo.io
⚫ (20:11-) EOS World Expo in San Francisco.
https://medium.com/@eosworldexpo/eos-world-expo-2019-sf-bbc6fbe41cf3
⚫ (20:38-) block.one announcement in Washington DC on June 1, 2019. (Already covered this; just mention it briefly).
⚫ (21:05-) Bailey the Crypto Cat appearance with EOS rap.More Info on Stakemining:
I learned more from user "Fuzzy" (creator of the stakemine.io project). As I mentioned in that video, current profits for stake mining are very low. But there is more potential for stakemining, especially serving as a sort of "Venture Capitalist" function to help new dApps gain the resources they need to operate. Not all new dApps can afford resources. Using Stakemining, it can give someone a chance to be an "early investor" in a new project, without all the regulations of "ICOs". Stakemining is a superior model to Ethereum ICOs in this regard. You simply delegate resources to the project. So while the current financial aspect of stakemining isn't that great, this can always improve, and most importantly, stakemining can be a benevolent activity one can partake in to fund dApps one believes in, and also have a chance to get in on the ground floor with shares in their new dApp company (by receipt of their tokens as the reward for delegating resources to that dApp).
---
Disclaimer: The views expressed in this video are strictly my own and are not to be construed as trading advice. Do not buy, sell or otherwise trade cryptocurrency based on the content of this video. I am merely sharing what I have done and what I would do in various situations as an educational tool only.
Earth Spin Animation - ©kNews.space - all rights reserved
---
⚡Colin Talks Crypto⚡ wallets & links:
💜 EOS donation address/account name: colintcrypto
💜 Ethereum (ETH) address: 0x5b90414Aeb115f910698304E63C2C3092739c9c0
💜 Bitcoin Cash (BCH) address: qpzc3apy9s8x2qtlqxxgnalfxtzgnkg5nq352w9k2t
💜 Bitcoin (BTC) address: 1Da6ivdriJpzqnLkNEa1XnKk5nGCiyRZrF
💗 Website: http://www.ColinTalksCrypto.com
💗 YouTube:

💗 Twitter: https://twitter.com/ColinTCrypto (@ColinTCrypto)
💗 Steemit: https://steemit.com/@colintalkscrypto
💗 Uptrennd channel: https://www.uptrennd.com/user/MTYzOA==
💗 BitChute channel: https://www.bitchute.com/channel/colintalkscrypto/
💗 D.Tube channel: https://d.tube/#!/c/colintalkscrypto
💗 Bit.Tube channel: https://bit.tube/ColinTalksCrypto
💗 T-shirts and swag: https://teespring.com/stores/colin-talks-crypto