EOS is really #2 on CoinMarketCap for trading volume because 90%+ of the volume is FAKE!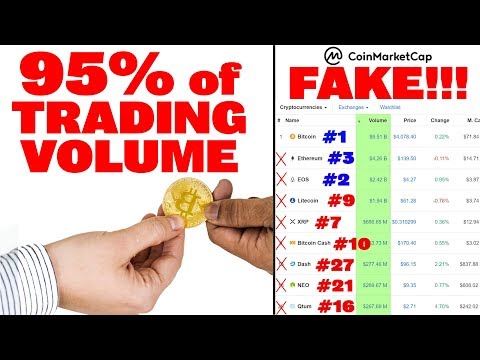 Bitwise analysis shows 95% of crypto exchange trading shown on CoinMarketCap.com is fake!
• OpenMarketCap (with corrected volume figures)
https://openmarketcap.com/exchanges/difference
• How much are cryptocurrency volumes overstated?
https://medium.com/dirt-protocol/how-much-are-cryptocurrency-volumes-overstated-7a80873ffe69
https://www.bitcointradevolume.com/
• Definition of "wash trading":
https://www.investopedia.com/terms/w/washtrading.asp
https://cryptodigestnews.com/cryptocurrency-exchanges-engaging-in-high-level-wash-trading-to-fake-trade-volumes-d5e9c5e5a0ca
---
Disclaimer: The views expressed in this video are strictly my own and are not to be construed as trading advice. Do not buy, sell or otherwise trade cryptocurrency based on the content of this video. I am merely sharing what I have done and what I would do in various situations as an educational tool only.
Earth Spin Animation - ©kNews.space - all rights reserved
---
⚡Colin Talks Crypto⚡ wallets & links:
💜 EOS donation address/account name: colintcrypto
💜 Ethereum (ETH) address: 0x5b90414Aeb115f910698304E63C2C3092739c9c0
💜 Bitcoin Cash (BCH) address: qpzc3apy9s8x2qtlqxxgnalfxtzgnkg5nq352w9k2t
💜 Bitcoin (BTC) address: 1Da6ivdriJpzqnLkNEa1XnKk5nGCiyRZrF
💗 Website: http://www.ColinTalksCrypto.com
💗 YouTube:

💗 Twitter: https://twitter.com/ColinTCrypto (@ColinTCrypto)
💗 Steemit: https://steemit.com/@colintalkscrypto
💗 Uptrennd channel: https://www.uptrennd.com/user/MTYzOA==
💗 BitChute channel: https://www.bitchute.com/channel/colintalkscrypto/
💗 D.Tube channel: https://d.tube/#!/c/colintalkscrypto
💗 Bit.Tube channel: https://bit.tube/ColinTalksCrypto
💗 T-shirts and swag: https://teespring.com/stores/colin-talks-crypto