🔵 Colin Talks Crypto Rewards Proxy +8 Sock Puppet BP Accounts Leeching 931 EOS Daily from System
YouTube link: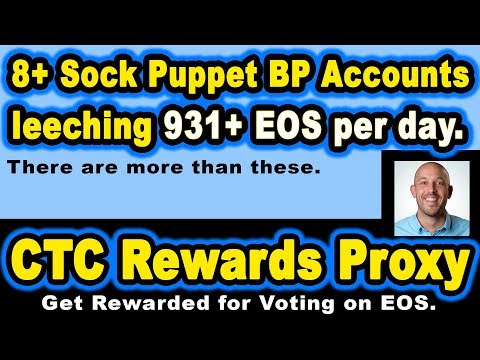 ● Vote for CTC Rewards Proxy here: https://eosauthority.com/proxy_details?proxy=colinrewards
● 8:36- Eight BPs with sock puppet accounts, leeching EOS from the system.
● More information here: https://www.colintalkscrypto.com/rewardsproxy/
● BP Sign-up info: https://www.colintalkscrypto.com/rewardsproxy
● Participating BPs can view their balance here:
https://bloks.io/account/genereospool?loadContract=true&tab=Tables&account=genereospool&scope=genereospool&limit=100&table=bps
● To determine the current daily reward rate per BP, you can see the daily reward amounts on my proxy account's list of transactions:
https://eosflare.io/account/colinrewards
● GenerEOS article "Voter Rewards & CTC Rewards Proxy Smart Contract":
https://medium.com/@generEOS/voter-rewards-ctc-rewards-proxy-smart-contract-e66a3a721b79
---
Disclaimer: This video is not financial or investment advice. Do not buy, sell or trade cryptocurrency, or make any financial decisions based on the content of this video. I am merely sharing what I have done and what I would do in various situations as an educational tool only.
Earth Spin Animation - ©kNews.space - all rights reserved
---
⚡Colin Talks Crypto⚡
💜 EOS donation address/account name: colintcrypto
💜 Ethereum (ETH) address: 0x5b90414Aeb115f910698304E63C2C3092739c9c0
💜 Bitcoin Cash (BCH) address: qpzc3apy9s8x2qtlqxxgnalfxtzgnkg5nq352w9k2t
💜 Bitcoin (BTC) address: 1Da6ivdriJpzqnLkNEa1XnKk5nGCiyRZrF
💗 Website: http://www.ColinTalksCrypto.com
💗 YouTube:

💗 Twitter: https://twitter.com/ColinTCrypto (@ColinTCrypto)
💗 Facebook: http://fb.me/ColinTalksCryptocurrency
💗 Steemit: https://steemit.com/@colintalkscrypto
💗 Uptrennd channel: https://www.uptrennd.com/user/colintalkscrypto
💗 BitChute channel: https://www.bitchute.com/channel/colintalkscrypto/
💗 D.Tube channel: https://d.tube/#!/c/colintalkscrypto
💗 T-shirts and swag: https://teespring.com/stores/colin-talks-crypto