EOS "regproducer" contract activated by Colin Talks Crypto proxy - FIRST proxy activated upgrade!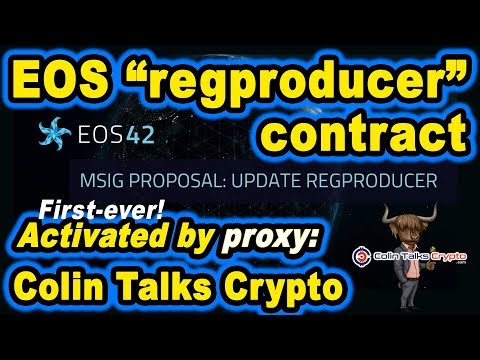 ⚫ Game plan to activate the "regproducer" smart contract (need 15/21 BPs to approve it):
Essentially I have to get BPs "dotwiki" and "eosiosg" out of top 21 momentarily.
1. I vote for eoscannonchn, eosasia11111, cochainworld, eossv12eossv, eosbeijingbp
2. This puts dotwiki and eosiosg out of top 21 momentarily
3. EOS42 executes the proposal (technically anyone can)
⚫ A big thank you to EOS 42, EOS Cafe, and https://bloks.io and last but most important, a big thank you to EVERYONE WHO VOTED for the Colin Talks Crypto proxy.
⚫ Links for reference:

https://labs.eostitan.com/#/governance-proposals/?proposal=updateabi
https://medium.com/@eos42/msig-proposal-update-regroducer-ricardian-contract-842729d71cb0
https://bloks.io/transaction/5a4ca0c70b56e98b03de651618fa9b98d60c85b6aa16f4ffab2becde3239d366
https://bloks.io/transaction/4802744e2bf7d77d2ad905013028c3db03eca54817eabed332489dc325e21f73
---
Disclaimer: The views expressed in this video are strictly my own and are not to be construed as financial advice. Do not buy, sell or otherwise trade cryptocurrency based on the content of this video. I am merely sharing what I have done and what I would do in various situations as an educational tool only.
Earth Spin Animation - ©kNews.space - all rights reserved
---
⚡Colin Talks Crypto⚡ wallets & links:
💜 EOS donation address/account name: colintcrypto
💜 Ethereum (ETH) address: 0x5b90414Aeb115f910698304E63C2C3092739c9c0
💜 Bitcoin Cash (BCH) address: qpzc3apy9s8x2qtlqxxgnalfxtzgnkg5nq352w9k2t
💜 Bitcoin (BTC) address: 1Da6ivdriJpzqnLkNEa1XnKk5nGCiyRZrF
💗 Website: http://www.ColinTalksCrypto.com
💗 YouTube:

💗 Twitter: https://twitter.com/ColinTCrypto (@ColinTCrypto)
💗 Steemit: https://steemit.com/@colintalkscrypto
💗 D.Tube video channel: https://d.tube/#!/c/colintalkscrypto
💗 Uptrennd channel: https://www.uptrennd.com/user/colintalkscrypto
💗 BitChute channel: https://www.bitchute.com/channel/colintalkscrypto/
💗 T-shirts and swag: https://teespring.com/stores/colin-talks-crypto