EOS Mega Update 23: Block Producer Cartels, Governance Issues, Vote Buying, EOSIO 1.8, Proxies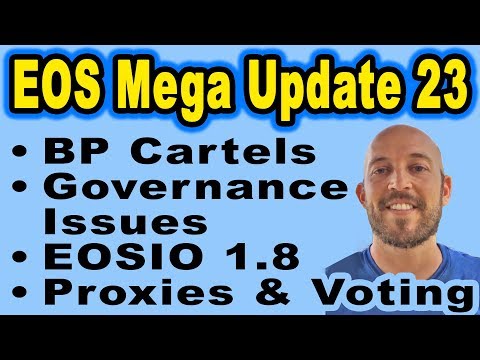 In this "fireside chat" style video, I discuss the ins-and-outs of EOS's current state in regards to Block Producer cartels, governance, voting, decentralization, EOSIO 1.8 and BP/Proxy voting.
Are BPs too entrenched to be removed? How will this affect future EOS progress?
• EOS Authority's "1 token, 1 vote squared" – with live simulation of votes:
https://eosauthority.com/producers_rank_1tsq1v
• EOS Authority's proposal for a new DPOS voting model: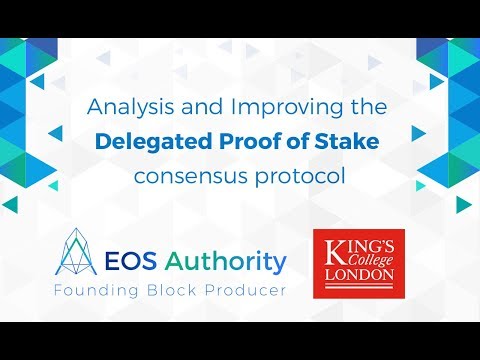 • EOS Titan heatmap page, showing ALL proxies (even non-voting proxies)
https://eostitan.com/heatmap/proxy/all
• EOS Titan heatmap page, showing ALL block producers (even non-voting BPs)
https://eostitan.com/heatmap/all
• View Current EOS BP standings:
https://bloks.io/vote
---
Disclaimer: The views expressed in this video are strictly my own and are not to be construed as financial advice. Do not buy, sell or otherwise trade cryptocurrency based on the content of this video. I am merely sharing what I have done and what I would do in various situations as an educational tool only.
Earth Spin Animation - ©kNews.space - all rights reserved
---
⚡Colin Talks Crypto⚡ wallets & links:
💜 EOS donation address/account name: colintcrypto
💜 Ethereum (ETH) address: 0x5b90414Aeb115f910698304E63C2C3092739c9c0
💜 Bitcoin Cash (BCH) address: qpzc3apy9s8x2qtlqxxgnalfxtzgnkg5nq352w9k2t
💜 Bitcoin (BTC) address: 1Da6ivdriJpzqnLkNEa1XnKk5nGCiyRZrF
💗 Website: http://www.ColinTalksCrypto.com
💗 YouTube:

💗 Twitter: https://twitter.com/ColinTCrypto (@ColinTCrypto)
💗 Steemit: https://steemit.com/@colintalkscrypto
💗 Uptrennd channel: https://www.uptrennd.com/user/colintalkscrypto
💗 BitChute channel: https://www.bitchute.com/channel/colintalkscrypto/
💗 D.Tube channel: https://d.tube/#!/c/colintalkscrypto
💗 T-shirts and swag: https://teespring.com/stores/colin-talks-crypto