EOS Mega Update 20 (Part 2 of 2): Tezos & Dan, Emanate, Hyperion,Snax, DappNetwork, New Constitution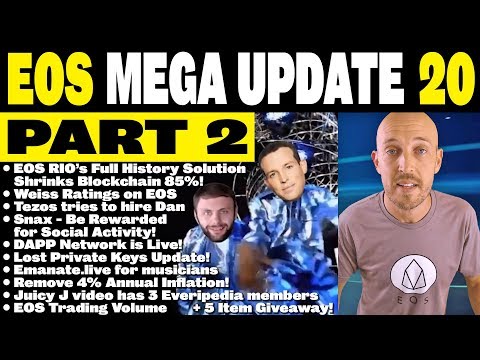 ⚫ Topics & Timestamps (EPISODE 2 of 2):
• (1:26-) Weiss ratings says EOS is superior to NEO.
https://www.reddit.com/r/eos/comments/aw4plm/weiss_ratings_tweets_about_eos/
• (2:01-) Tezos tries to hire Daniel Larimer.
https://www.theeoswriter.io/the-feed/2019/3/1/brendan-blumer-is-a-savage

• (3:50-) EOS Emanate - A smart-collaboration is a piece of audio that is created within a smart-contract and distributed via Emanate so that the original creators get their revenue share split by code, without the need of a 3rd party. For example a songwriter, music producer and record label all get their payments as the audio is consumed, without any delay.
https://emanate.live/#!/discover
• (4:51-) Remove 4% annual inflation with new poll "inflation". Vote for my proxy colintcrypto!
https://eosauthority.com/polls_details?proposal=inflation_20190307&lnc=en
• (5:45-) Voting Tips (important things to remember or your vote might not count!)
• (6:53-) EOS RIO has presented their Hyperion Full History API Solution to the EOSIO community "Hyperion reduces database size by about 85%, from almost 5 TB to approximately 650 GB".
https://link.medium.com/Fzt33DoVRU
• (8:16-) Snax - monetize social platforms using EOSIO.
https://snax.one/whitepaper.pdf
(read 1st & 2nd paragraphs from whitepaper)
Roadmap:
https://snax.one/roadmap
• (10:27-) The DAPP Network is now Live on EOS!
https://medium.com/@liquidapps/the-dapp-network-is-now-live-on-eos-db467f0dc2f
• (12:59-) The
@therealjuicyj
music video also has 3 Everipedia team members wearing Everipedia shirts at the end.
• (13:38-) Lost private keys update - [share email from ECAF received 3-11-19]. When I had spoke with Daniel Keyes of EOS Nation he had said the automated solution was just around the corner, so hopefully we see this soon. You can now check to see if your account is eligible for recovery and be notified by email when the automated solution exists.
https://eosauthority.com/lostkey
• (15:14-) The new EOS User Agreement is up for 15/21 BP vote! It will replace the constitution that EOS launched with! This will also set a precedent that we do not need 15% voter participation to enact a referendum. A milestone indeed.
• (17:36-) EOS trading volume over the past year (share a clip from my previous video).
• (19:01-) Giveaway of Women's EOS Stretchy Pants (Medium Size). Five Free Prizes with Free Shipping to US residents (or if you want to send a few EOS I will ship internationally so you aren't left out!). How to win? 1. Like video 2. Comment your Twitter handle 3. Follow me on Twitter, and 4. Retweet EOS Mega Update Vol 20!
---
Disclaimer: The views expressed in this video are strictly my own and are not to be construed as trading advice. Do not buy, sell or otherwise trade cryptocurrency based on the content of this video. I am merely sharing what I have done and what I would do in various situations as an educational tool only.
---
⚡Colin Talks Crypto⚡ wallets & links:
💜 EOS donation address/account name: colintcrypto
💜 Ethereum (ETH) address: 0x5b90414Aeb115f910698304E63C2C3092739c9c0
💜 Bitcoin Cash (BCH) address: qpzc3apy9s8x2qtlqxxgnalfxtzgnkg5nq352w9k2t
💜 Bitcoin (BTC) address: 1Da6ivdriJpzqnLkNEa1XnKk5nGCiyRZrF
💗 Website: http://www.ColinTalksCrypto.com
💗 YouTube:

💗 Twitter: https://twitter.com/ColinTCrypto (@ColinTCrypto)
💗 Steemit: https://steemit.com/@colintalkscrypto
💗 Uptrennd channel: https://www.uptrennd.com/user/MTYzOA==
💗 BitChute channel: https://www.bitchute.com/channel/colintalkscrypto/
💗 D.Tube channel: https://d.tube/#!/c/colintalkscrypto
💗 Bit.Tube channel: https://bit.tube/ColinTalksCrypto
💗 T-shirts and swag: https://teespring.com/stores/colin-talks-crypto
---
Earth Spin Animation - ©kNews.space - all rights reserved