Crypto Scammers tried to get me, twice! Telegram social exploits, fake EOS sites & what to watch for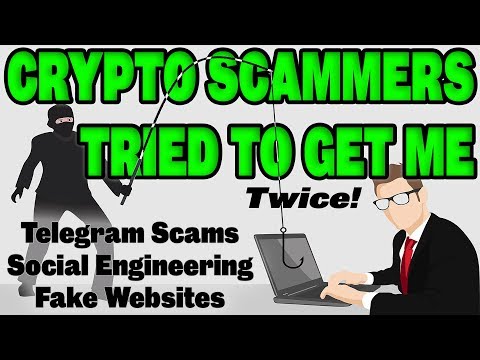 Be careful when using Telegram especially if you hold crypto! There are social engineering exploiters and scammers aplenty!
⚫ pEOS fake website scam:
https://www.reddit.com/r/eos/comments/axambz/scam_alert_thepeosclaim_account_and_peosone_are/
(The real site is peos.one)
⚫ Telos fake website scams:
https://www.reddit.com/r/eos/comments/asvi1z/fake_telos_foundation_scam_site_alert_for_eos/

(The real site is telosfoundation.io)
---
Disclaimer: The views expressed in this video are strictly my own and are not to be construed as trading advice. Do not buy, sell or otherwise trade cryptocurrency based on the content of this video. I am merely sharing what I have done and what I would do in various situations as an educational tool only.
---
⚡Colin Talks Crypto⚡ wallets & links:
💜 EOS donation address/account name: colintcrypto
💜 Ethereum (ETH) address: 0x5b90414Aeb115f910698304E63C2C3092739c9c0
💜 Bitcoin Cash (BCH) address: qpzc3apy9s8x2qtlqxxgnalfxtzgnkg5nq352w9k2t
💜 Bitcoin (BTC) address: 1Da6ivdriJpzqnLkNEa1XnKk5nGCiyRZrF
💗 Website: http://www.ColinTalksCrypto.com
💗 YouTube:

💗 Twitter: https://twitter.com/ColinTCrypto (@ColinTCrypto)
💗 Steemit: https://steemit.com/@colintalkscrypto
💗 Uptrennd channel: https://www.uptrennd.com/user/MTYzOA==
💗 BitChute channel: https://www.bitchute.com/channel/colintalkscrypto/
💗 D.Tube channel: https://d.tube/#!/c/colintalkscrypto
💗 Bit.Tube channel: https://bit.tube/ColinTalksCrypto
💗 T-shirts and swag: https://teespring.com/stores/colin-talks-crypto
---
Earth Spin Animation - ©kNews.space - all rights reserved