The REAL State of Ethereum 2.0 (Casper, Sharding, Funding, Timelines). Why I Sold 40% my ETH for EOS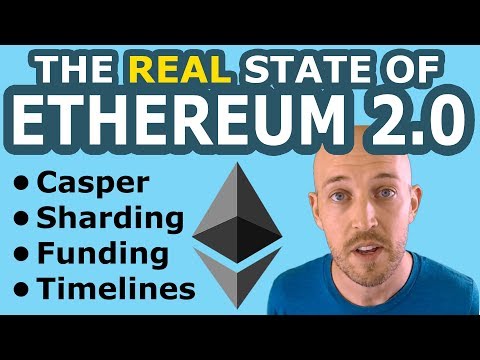 ⚫ Some takeaways:
• ETH 2.0 has no lead, and could benefit from one.
• ETH 2.0 implementation has been stalled by the specification constantly changing underneath implementors "spec is almost completely changed from middle of last year", etc.
• Research people are not communicating much on expected time frames, so there is a lot of misleading info/speculation being passed around from people outside R&D.
• Implementors are concerned about funding.
• Implementors do not feel comfortable pushing back against research on changes for a variety of reasons, leading to further lack of stability.
• The rate of change in the spec has discouraged implementation work.
• Research has started to version segments of the spec to provide further clarity on what's ready and what they expect to change.
• ETH 2.0 won't be transformational for smart contracts until Phase 0/1/2 are complete and cross-shard contract communication is live.
Source of this TL;DR: https://www.reddit.com/r/ethereum/comments/anji4w/the_state_of_ethereum_20/efu6t53/
⚫ For the past 3 years ETH has been the largest holding in my portfolio. I have held more ETH than any other asset in my portolio for 3 years. [show pie chart before (40% ETH) and after] As a result of this latest news, I decided to convert 1/3 of my ETH to EOS.
---
Disclaimer: The views expressed in this video are strictly my own and are not to be construed as trading advice. Do not buy, sell or otherwise trade cryptocurrency based on the content of this video. I am merely sharing what I have done and what I would do in various situations as an educational tool only.
---
⚡Colin Talks Crypto⚡ addresses/wallets:
💜 EOS donation address/account name: colintcrypto
💜 Ethereum (ETH) address: 0x5b90414Aeb115f910698304E63C2C3092739c9c0
💜 Bitcoin Cash (BCH) address: qpzc3apy9s8x2qtlqxxgnalfxtzgnkg5nq352w9k2t
💜 Bitcoin (BTC) address: 1Da6ivdriJpzqnLkNEa1XnKk5nGCiyRZrF
---
💗 Website: http://www.ColinTalksCrypto.com
💗 YouTube:

💗 Twitter: https://twitter.com/ColinTCrypto (@ColinTCrypto)
💗 Steemit: https://steemit.com/@colintalkscrypto?? DTube: https://d.tube/#!/c/colintalkscrypto
💗 D.Tube video channel: https://d.tube/#!/c/colintalkscrypto
💗 Bit.Tube video channel: https://bit.tube/ColinTalksCrypto
T-shirts and merchandise available. Because... why not?
https://teespring.com/colintalkscrypto
---
Earth Spin Animation - ©kNews.space - all rights reserved