EOS Referendum System is Live! I Show You How to Vote for Proposals! | I Became a Voting Proxy!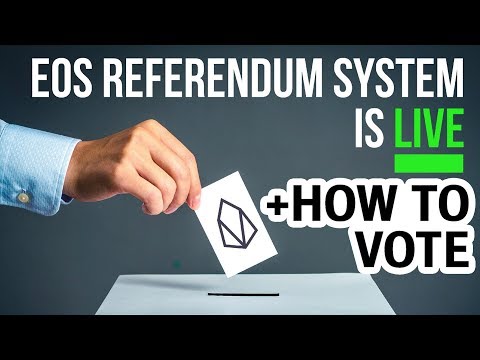 EOS Referendum Tool is Live! And I became a proxy! (EOS Account: ColinTCrypto)
⚫ Thanks to EOS Canada and many others!

⚫ Definition of a Referendum in EOS: https://eosvotes.io/about#referendum
https://medium.com/@eosnationbp/the-fate-of-eos-is-in-the-hands-of-token-holders-3d345147ef6
⚫ Vote with Scatter wallet (v10.1 or higher):
https://get-scatter.com/
(The GreyMass "eos-voter" wallet support is coming soon. In the current version you can just view the proposals but not yet vote).
⚫ Important Notes:
1. To vote, make sure your tokens are staked that you want to vote with. You can only vote with as many tokens as you've staked.
2. If you're using a Ledger Nano S, make sure the EOS app is updated to v1.2 or higher from the Ledger Live Manager application. And you MUST have "arbitrary data" turned on in the EOS Ledger app settings menu (on the hardware device itself).
3. If you vote for a proxy, by default they will vote for BPs and referendums with your tokens. You can choose to vote for referendums and still allow them to vote for BPs for you. Or you can let them vote for both BPs and referendums for you.
4. Rohan from EOSAuthority said: " If you vote on a proposal, your vote overrides your proxy's vote irrespective of how the proxy votes or when you vote for a proxy."
⚫ View & vote for proposals at these locations:
https://bloks.io/vote/referendums
https://eosauthority.com/polls?&lnc=en
https://eosvotes.io/
https://www.eosx.io/tools/referendums/proposals
https://eospark.com/wallet/referendum/proposals
https://eostoolkit.io/community/forum/vote
https://eostitan.com/proposals?showExpired=false
---
Disclaimer: The views expressed in this video are strictly my own and are not to be construed as trading advice. Do not buy, sell or otherwise trade cryptocurrency based on the content of this video. I am merely sharing what I have done and what I would do in various situations as an educational tool only.
---
⚡Colin Talks Crypto⚡ addresses/wallets:
💜 EOS donation address/account name: colintcrypto
💜 Ethereum (ETH) address: 0x5b90414Aeb115f910698304E63C2C3092739c9c0
💜 Bitcoin Cash (BCH) address: qpzc3apy9s8x2qtlqxxgnalfxtzgnkg5nq352w9k2t
💜 Bitcoin (BTC) address: 1Da6ivdriJpzqnLkNEa1XnKk5nGCiyRZrF
---
You can reach me at:
💗 Website: http://www.ColinTalksCrypto.com
💗 YouTube:

💗 Twitter: https://twitter.com/ColinTCrypto (@ColinTCrypto)
💗 Steemit: https://steemit.com/@colintalkscrypto?? DTube: https://d.tube/#!/c/colintalkscrypto
💗 D.Tube video channel: https://d.tube/#!/c/colintalkscrypto
💗 Bit.Tube video channel: https://bit.tube/ColinTalksCrypto
---
T-shirts and merchandise available. Because... why not?
https://teespring.com/colintalkscrypto
---