EOS Mega Update 15 - Trezor Support! Passive Income! Telos, Worbli, 200 Free EOS Account Giveaway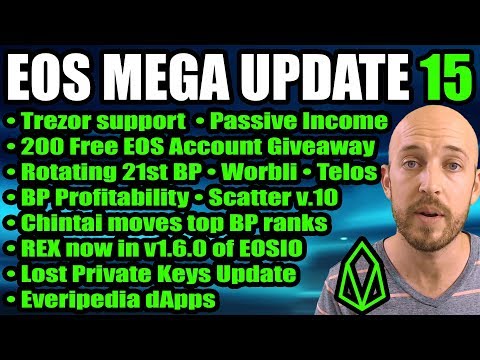 Topics, links and time-stamps:
⚫ 200 Free EOS accounts giveaway at end of video.
⚫ (0:36-) EOS jumped up positions on CoinMarketCap!
⚫ Block.one added REX to EOSIO v1.6.0 release candidate. PASSIVE INCOME is almost here. REX users will be rewarded with cpu/net trading fees and account name fees (i.e. eosio.ramfee and eosio.names accounts). "participants in the REX needed to EITHER vote for at least 21 block producer candidates OR delegate their voting influence to a registered proxy" - Raises network security by using requiring accounts to vote for at least 21 Block Producers or delegating to a proxy in order to participate in the Resource Exchange marketplace.
https://www.reddit.com/r/eos/comments/a5zkgi/rex_introduced_in_the_newest_eosio_release/
https://medium.com/eos-new-york/resource-exchange-rex-updates-from-block-one-24bed90a7f0a
https://medium.com/eos-new-york/rex-needs-a-referendum-why-thats-good-for-eos-e1e5519b47b2
⚫ Chintai's 5 newly selected BPs climb ranks for a massive BP shake-up in a good way! (EOS Asia, EOS Authority, EOS Cafe Block, EOS Canada, LiquidEOS)

⚫ Dan talked about rotating out the 21st block producer.
⚫ Trezor support for EOS coming.
https://medium.com/@cryptofairy/eos-on-trezor-model-t-5a444de6c17b
⚫ Blocktivity of EOS vs BTC & ETH
⚫ BP profitability.
https://medium.com/@altShiftDev/survey-of-eos-block-producers-cf9677561db7
⚫ Dan is all-in on EOS. Dan is not leaving block.one. That is fake news. Here is proof to squash the FUD.
https://www.theeoswriter.io/home/2018/12/4/innovating-in-the-open
https://www.reddit.com/r/eos/comments/a3j1su/everyone_needs_to_relax/
⚫ Claim your Worbli tokens! Tips: The guys at the Worbli Telegram group were very very helpful to me in helping me claim my Worbli tokens. A big shout out to Martin, biteos & Paul M for helping me. Make sure to link it with the EOS account that had the most EOS tokens on Sept 7, 2018 so that you get as many Worbli tokens as possible. If using a Ledger Nano S, you have to turn on "arbritrary data" to make it work when signing the worbli claim transaction with Scatter. You are linking your
EOS
account in Scatter. This had me confused for a bit as I was trying to incorrectly use my worbli keys in scatter. You must be using your EOS account in Scatter so that Worbli can see how many tokens you held at the time of the token snapshot on Sept 7th.
⚫ Hold onto your IQ tokens, Everipedia just announced they're building Dapps that utilize their IQ token. prediction market, oracle service and more!
⚫ Telos will be listed on exchanges starting Dec 19. As you probably know, Telos should be listed on (at least) 4 exchanges starting next week after chain activation at 1M blocks (12/19). The exchanges are: chainrift.com, dexeos.io, findex.pro, swap.online, whaleex.com. Codex.one exchange is soon to follow!
https://t.co/Cvuxu4HApy
⚫ New Scatter version 10 overhaul. Beautiful and more logical interface.
⚫ ECAF - FIRST LOST KEY CHANGE RULING
https://eosauthority.com/approval/view?scope=libertyblock&name=chkey2&lnc=en
PROPOSED ON: 16th December 2018
PROPOSER : Libertyblock
STATUS: PENDING (15 MORE)
EXPIRY: 25th December 2018
⚫ (21:04-) 200 free EOS accounts courtesy of Meet.One. D'mitri & Susen @ Meet.one gave me 200 codes to give away. Instructions: All you have to do is 1.) Follow me on Twitter (
@ColinTCrypto)
, 2.) retweet this video (EOS Mega Update Vol 15), and 3.) lastly send me a DM on Twitter telling me you've done those things. I will send the first 200 people who do this a free EOS account code for use on the Meet.one app.
---
Disclaimer: The views expressed in this video are strictly my own and are not to be construed as trading advice. Do not buy, sell or otherwise trade cryptocurrency based on the content of this video. I am merely sharing what I have done and what I would do in various situations as an educational tool only.
---
⚡Colin Talks Crypto⚡ addresses/wallets:
💜 EOS donation address/account name: colintcrypto
💜 Ethereum (ETH) address: 0x5b90414Aeb115f910698304E63C2C3092739c9c0
💜 Bitcoin Cash (BCH) address: qpzc3apy9s8x2qtlqxxgnalfxtzgnkg5nq352w9k2t
💜 Bitcoin (BTC) address: 1Da6ivdriJpzqnLkNEa1XnKk5nGCiyRZrF
---
You can reach me at:
💗 Website: http://www.ColinTalksCrypto.com
💗 YouTube:

💗 Twitter: https://twitter.com/ColinTCrypto (@ColinTCrypto)
💗 Steemit: https://steemit.com/@colintalkscrypto?? DTube: https://d.tube/#!/c/colintalkscrypto
💗 D.Tube video channel: https://d.tube/#!/c/colintalkscrypto
💗 Bit.Tube video channel: https://bit.tube/ColinTalksCrypto
---
T-shirts and merchandise available. Because... why not?
https://teespring.com/colintalkscrypto
---