Panic or Buy More Crypto? Why I'm doubling down & buying even more EOS during this bear market!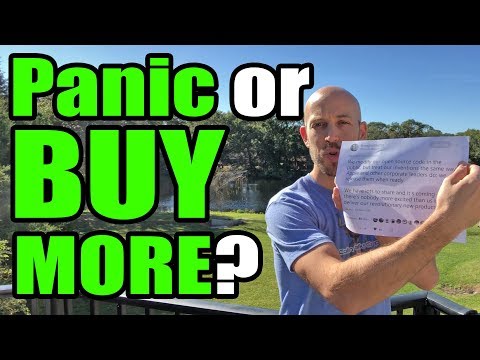 Panic or buy more crypto?
I share why I am buying more crypto in this bear market and crash, and why personally I am choosing EOS among all the choices of cryptos out there.
⚫ Block.one CEO Brendan Blumer tweets about EOS dedication

⚫ Innovating in the Open – by Daniel Larimer
https://medium.com/@bytemaster/innovating-in-the-open-1c9332ed9285
---
Disclaimer: The views expressed in this video are strictly my own and are not to be construed as trading advice. Do not buy, sell or otherwise trade cryptocurrency based on the content of this video. I am merely sharing what I have done and what I would do in various situations as an educational tool only.
---
⚡Colin Talks Crypto⚡ addresses/wallets:
💜 EOS donation address/account name: colintcrypto
💜 Ethereum (ETH) address: 0x5b90414Aeb115f910698304E63C2C3092739c9c0
💜 Bitcoin Cash (BCH) address: qpzc3apy9s8x2qtlqxxgnalfxtzgnkg5nq352w9k2t
💜 Bitcoin (BTC) address: 1Da6ivdriJpzqnLkNEa1XnKk5nGCiyRZrF
---
You can reach me at:
💗 Website: http://www.ColinTalksCrypto.com
💗 YouTube:

💗 Twitter: https://twitter.com/ColinTCrypto (@ColinTCrypto)
💗 Steemit: https://steemit.com/@colintalkscrypto?? DTube: https://d.tube/#!/c/colintalkscrypto
💗 D.Tube video channel: https://d.tube/#!/c/colintalkscrypto
💗 Bit.Tube video channel: https://bit.tube/ColinTalksCrypto
---
T-shirts and merchandise available. Because... why not?
https://teespring.com/colintalkscrypto
---